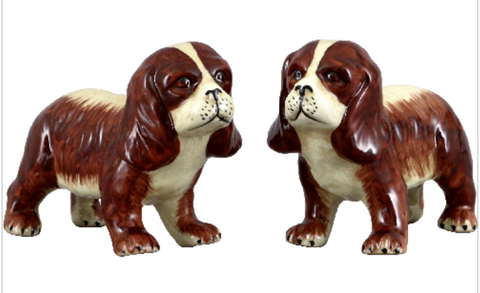 Adorable Pair 5" Brown Staffordshire style Standing King Cavalier Spaniel Dogs Pups
$79.99
Brand Unknown
Here is an adorable pair of Staffordshire reproduction King Charles Cavalier Spaniel dog figurines, each standing on all fours. These are a smaller size, which I think makes them extra cute! They will look great stacked on books, tucked amongst other collectibles on a shelf, used as bookends for a few smaller books...or I think they look especially great paired with larger dogs in groups.   They epitomize classic, English country style & decor! 
Measures:  They stand 5" x 7" lone
Condition:  New
*I have quite a few pairs of various Staffy dogs from small to large, antique to new, and in different colors.  I receive regular shipments from England of the antiques and vintage pieces so the inventory changes often.  Please keep checking or send me a message if you're looking for a specific size, style or color.
Named Staffordshire for the county in which they come from, where potteries produced these ceramic canines meant to set upon a mantel , the dogs are Cavalier King Charles spaniels named for the British monarch, Charles II (1630-1685) who was said to give these royal hounds the run of the castle. In the early 18th century, the figurines were made from china and hand-painted in a labor intensive process of repeated kiln firings. They reached the height of their popularity in the late 1800s and were mass produced in the 20th century.  Today, they are highly sought by collectors and designers turning to the past for inspiration.
Bin# HZNDD1